2018 Waipu River Raft Race - POSTPONED TO 4 MARCH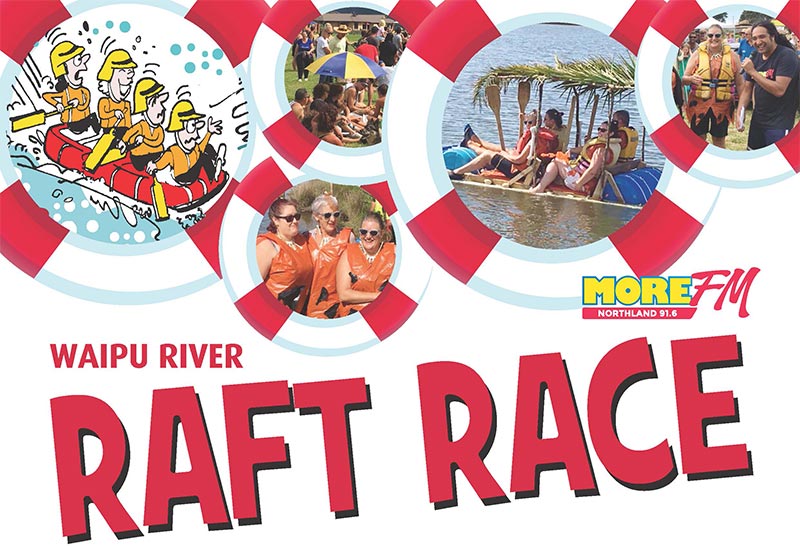 Get your club, family, business or school together and get building your raft, then race to win! Great food, good coffee and icecream will be on site, as well as plenty of fun activities for the whole family.
Prizemoney
$1,000 first prize open race
$500 first prize junior race
$200 first prize paddleboard race
Races start at midday, with raft scutineering from 10:30am.
Enter your raft team of 4 or your individual paddleboard by buying your ticket below.
Entry fees
Open $100
Junior $50
Paddleboard $20
A great family fun filled day will be had by all, with plenty of entertainment in between the races... come and cheer the crews on!
REGISTRATION
Entries must be made by buying a ticket to the event on this website and entering your team details. No entries will be accepted on the day.
RAFT SCRUTINEERING & EVENT SAFETY BRIEFING
Scrutineering & crew briefing will start at the Boat Club parking area on Nova Scotia Drive at 11.00am. Children are not allowed to be in this area.
OFFICIAL RAFT RACE START TIMES
Junior race will start at 12.00pm
Paddleboard race will start at 12.45pm
Open race will start at 1.30pm
Rafts will take up positions as directed by race officials
The signal to start will be in the hands of the officials
Marshals & flags will be on the course to direct you. You must obey their instructions.
RAFTS
A raft is defined as a man-made flat bottom floating device, for safety reasons no sharp protrusions or objects allowed.
The base of each raft in contact with the water must be wider than 1.2metres
No polystyrene can be used in the construction of a raft.
Each team is to have a crew of 4 persons. (Junior & Open)
No fixed propulsion units ie; sails, fixed oars, rudders, motors or other mechanical means of propulsion can be used.- Manpower peddle propulsion is permitted.
No double bladed paddles (kayak style) allowed, only single bladed paddles (canoe) 1 per crew member.
Every raft must have a 4 metre tow rope firmly attached to the front for towing purposes. You will probably be towed to the start line.
Life jackets must be worn at all times by all competitors or you will be disqualified.
Vehicles carrying or towing rafts are the only ones allowed into the launching area and when unloaded must be parked where directed by officials.
No solid objects, water balloons, un-biodegradable products that will pollute the river, dyes or dangerous objects (including eggs, meat products or animal by-products & hard fruits) are to be used as ammunition.
No plastic bags, please consider the fish & birdlife downstream
On finishing the event it is your responsibility to remove your raft & all associated equipment from the club area.
If the weather is unfavourable the race may be postponed. All entrants will be advised by listening to MoreFM and by phone.
This is an alcohol free event.
PRIZEGIVING
This will be held in the club/radio station area at the end of the open race.
Event details
| | |
| --- | --- |
| Starts at | 04/03/2018 12:00 pm |
| Ends at | 04/03/2018 4:00 pm |
| Registration closes | 03/03/2018 11:55 pm |
| Location | Club rooms |